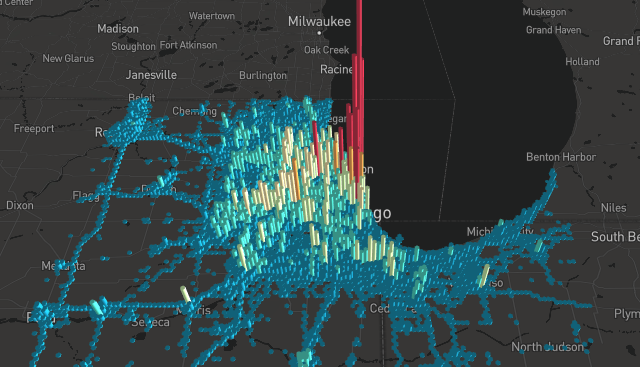 A real-time DMP
for

out-of-home.
We call Mira the crowd analytics platform. It is our process that tries to answer one question: what type of people are in this location right now?
Real-Time Location Data
Each day, as many as 3 Billion real-time location events are fed to Mira through hundreds of mobile partners.
Digital Segmentation
Mira instantly matches this deidentified data to anonymous Neustar segments through a direct API integration. Additional segments can be onboarded from other DMPs or customer uploads.
Geotemporal Overlay
This conjoined dataset provides a geo-temporal overlay of behaviors, demographics, and interests which underpins all our products.
Intelligent

Data

Aside from being the only real-time intelligence product for out-of-home, there are a few other key differentiators
Scale
Mira processes 90 billion location events each month. While this scale does not rival that of cell signal-based datasets (which compromise on the other three attributes), it is still leagues larger than what is needed to conduct rigorous statistical tests.
Versatility
Mobile advertising IDs are used throughout the digital advertising ecosystem for user segmentation. Our data is keyed by advertising IDs, which allows us to provide any static user dataset with a geotemporal context.
Granularity
Mira's out-of-the-box data integration is Neustar AdAdvisor, a probabilistic behavioral dataset. By aggregating various data sources, including in-person polls and surveys, Neustar is able to map advertising IDs to probabilities/affinities for over 16,000 different attributes.
Privacy
Mira inherently respects the privacy settings of the OS and user opt-outs, in stark contrast to carrier datasets, which provide no opt-out. Data is encrypted and stored securely. All decision points are made on aggregate metrics, not on individuals.
Learn more »
Frequently Asked Questions
Where do you get your data?
We integrate with mobile publishers and SDK providers to obtain opted-in mobile location data. For audience data, by default we use Neustar, a leading data management platform. However, we can also leverage client's first party data.
We already use a different DMP. Can you work with them?
Yes! We can work with arbitrary segments.
How accurate is it?
Location events with a reported accuracy of above 10 meters are thrown out. Features with sparse information, such as lightly trafficked rural areas, are not included in reporting.